As Local News Sources Dwindled, WXPR Figured Out What Matters Most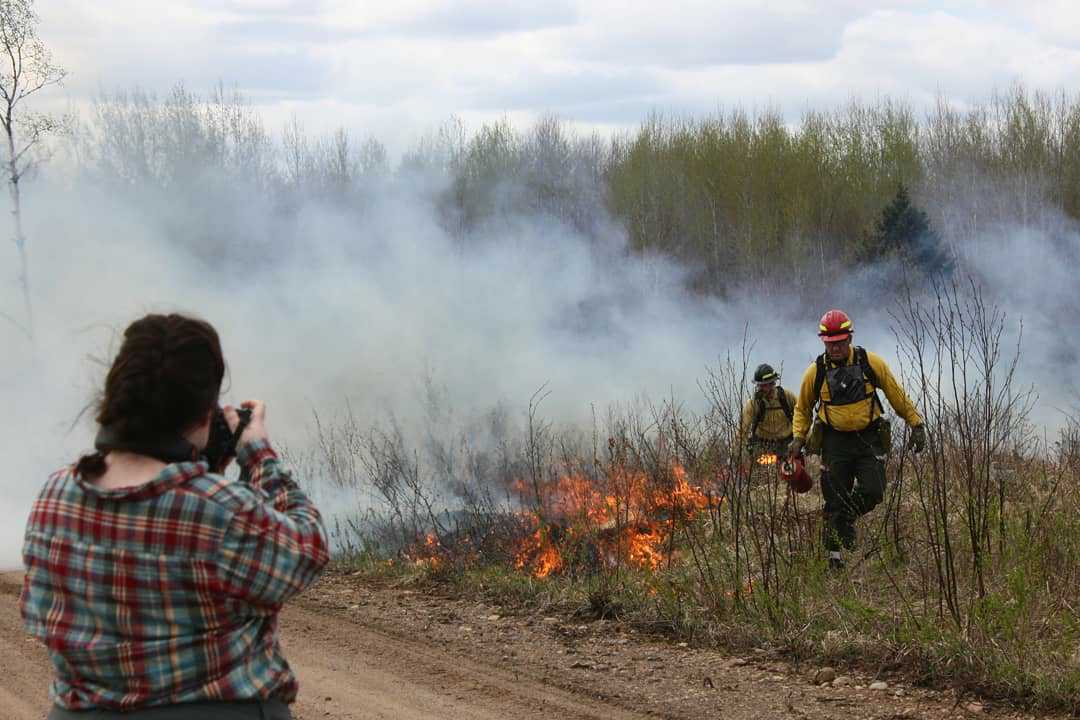 Katie Thoresen reporting on a prescribed wildfire burn.
Photo by US Forest Service
When central Wisconsin found itself slowly becoming a news desert, the team at the Rhinelander station jumped into fully represent the area in everything they do
WXPR has faced a problem plaguing rural public radio newsrooms around the country:  "Our area has seen a drastic reduction in local news providers over the last few years. We are discovering a new audience for local news, but are feeling the strain of trying to cover a large geographic area with a news staff of two," the station told the Alliance of Public Radio Media in their first major report, Connecting Communities: The Essential Service of Rural Public Radio. "We are quickly becoming the only reliable source of news in this area."
It's sadly not an uncommon occurrence for rural stations like WXPR, which broadcasts across central Wisconsin and into Michigan's upper peninsula. The 2022 Rural Public Media Survey found that approximately 20 percent of rural radio stations are broadcasting to communities with only one or two other daily news sources, and nearly 40 percent noted that there are one or two weekly news sources available.
Jessie Dick, the general manager and president of WXPR, felt like this was an opportunity to step up to the challenge of a winnowing availability of local news from nearby media organizations. "We had to hire an additional staff person and then really concentrate on what was needed in the community," she says, while remembering that the main questions they had to answer were "What's lacking?" and "What are other stations not covering?"
As with many rural stations across the country, this meant soliciting feedback through calls, surveys, and connecting with the community at local events. While many news stations find that an easy way to attract an audience is through local politics reporting, it wasn't a workable solution for WXPR. "It was lukewarm," Dick remembers, when her news team tried that route. What emerged as the most engaging content was something that made a lot of sense to Dick, who is an avid skier and kayaker. "We have found [that] anything that has to do with the environment is huge. The location that we're at is just filled with natural resources and people relocate to this area for the environment and the beauty of the area."
Just finding the right stories to cover and having the news team follow them isn't what makes a station as invaluable as WXPR, though. Dick and her team found that people actually had to connect with who they were listening to on-air, building a trusting relationship with everyone they reported on. "We're their friends. We're their neighbors. There's something in those voices that they hear on the radio that makes them feel included and feel part of it," Dick shares as a lesson she's learned. "We wanted to make sure that we were trying to represent everybody that lives in this area." And it's not just the news team and on-air talent. . "When we interview, we make sure they're local. We will get state or national experts every once in a while, but most of them are people that somebody might run into in the grocery store."
WXPR also took stock of which voices were missing. "We [asked ourselves], 'Are you accurately representative of the people that live in your community?' And we said, we are not," says Dick when asked about their Native American News vertical. "It's all from Indigenous voices in their story rather than us repeating something that happened." This vertical focuses on the four Indigenous tribes in their broadcast range: the Lac du Flambeau band of Lake Superior Chippewa, the Sokaogon Chippewa Community- Mole Lake Band of Lake Superior Chippewa, Forest County Potawatomi, and Lac Vieux Desert Chippewa. Building on their role as one of the few local news sources in the area, it meant listening to tribal community leaders, including ones even beyond their broadcast population, and taking the time and effort to build trust, one that accurately reflects conversations of their news team and its approach to news coverage.
With so much attention to their devotion to local news and finding topics not being covered, there can be some tradeoffs. As found in the Rural Public Media Survey, there's a tough balancing act for rural stations like WXPR and its news team, which currently consists of just News Director Katie Thoresen after another local station reporter recently moved to another job. "We can spend five minutes talking about the latest water quality," Dick says on one hand, "But then we're missing out on this and this and this. And then as soon as you take a step that way somebody's calling and saying, will you miss covering my town hall meeting?"
Challenges aside, Dick has found that composing the right balance on-air is not only a core part of their success, but something that extends to their entire schedule. "We used to say that we were a music station that had a news director as well. And now we're really trying to put an emphasis on that news, and it's important and vital for us to have local community members hosting the music shows," explains Dick when sharing that the refocus on local news hasn't come at the sacrifice of local talent sharing the music station staff and the audience loves.
Still, Dick is always asking questions to herself and her team, like "How do you differentiate yourself between what's out there?" and "How do people know you're different?" It's sometimes a simple answer for Dick. "We've just tried to go with what sounds authentic." It's not always easy, though and it's not always so simple, but Dick tries to have a plan ready to go with her team. "You just gotta make sure that you're representing the people that live in your area," she shares. "I think that's our secret."
---