WKMS Reflects On Its Commitment to the Community After A Devastating Series of Tornadoes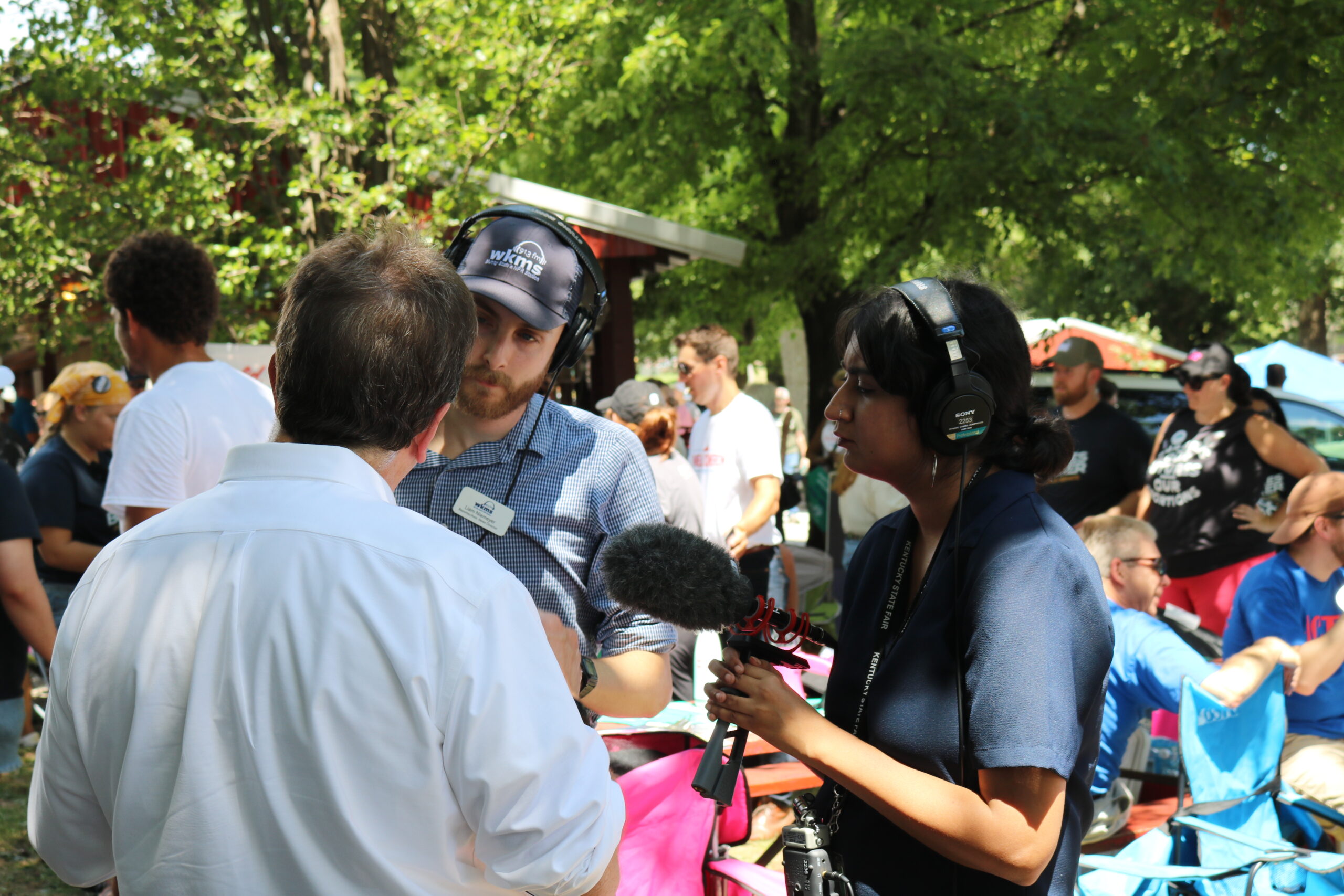 After a surge of tornados ravaged Kentucky in late 2021, the Murray-based station found its purpose in an area who needed to be heard as much as helped
In early December 2022, towns across western Kentucky held memorial services for their friends, family, and community affected by an historic tornado outbreak that occurred on December 10, 2021. The outbreak was more devastating and dangerous than almost any other in the entire country's history, producing one of the longest tornado tracks that has been recorded in the United States. Asia Burnett, station manager for WKMS, recalls the initial confusion and worry of those first few hours."In a situation like that we all lost power across our communities," she remembers. "In those kinds of moments, your emergency radio or your car radio is literally the only thing that you have to get any news or lifeline."
It was an intense period for the small staff. "Our reporters were still working 80 hour weeks," Burnett recalls, remarking that they worked through the station's winter break. The first report from the Alliance for Public Radio, Connecting Communities: The Essential Service of Rural Public Radio, found that in the over 100 rural public radio stations across the US who responded, 80 percent have a news team consisting of fewer than nine news staffers. WKMS is on the lower end of even that. At the time, the news staff included just two people: Derek Ley, news director,  and Liam Beyer, reporter and assistant news director, who could be seen in the community at 4am reporting and following up with local officials. It became a full station affair, Burnett says. "Everyone pitched in. Our membership director and other [staff members] were doing social media, trying to get out the newsletters with the information of where you could get resources."
In a rural area, WKMS has slowly become one of the few stations and news teams covering the local area. So it was not just a commitment to their community, but a real mission that was accentuated by the moment. "I feel like you can never really be prepared for that but I think because it's a small team, everybody was just so willing to think, "How do I help?'" she says as she reflects back to those hectic first few hours and days.
Traumatic and trying experiences will often bring out the best in a community, forging together the people in the area alongside the emergency services and resources like WKMS. It is, unfortunately, a common experience. The Rural Media Survey found that 63 percent of rural stations have had a natural disaster in the past year and a half. However, it's when stations like WKMS build a pre-existing support network and news resource before the disaster happens that they can spring so quickly into action.
"I think in news content you try to think about the most good you can do for the most people and we try to think about the gaps in our landscape," Burnett remarks when thinking about how they approach reporting across their part of Kentucky. It's hard work for the staff, but when it comes time to connect with the community, Burnett finds the feedback immediate, meaningful, and sometimes up close and personal. "During fundraisers we say 'Come up to the eighth floor!' and so we have people coming up with their 20 bucks," she remembers of past drives. "I mean we have people who call from their tractors during them, which is amazing."
Building inroads and solidifying those community ties is also a long term investment, so Burnett, who is also the station's development director, aims to always find donors and supporters looking to build that lasting foundation with the station. Recently, a donor endowed the WKMS Student Report Fund, and the station also received a grant from the Corporation for Public Broadcasting (CPB) offering funds to hire another full-time reporter to cover the tornado aftermath for nine months. Disaster recovery or not, Burnett and the station hope to be there for everybody, no matter their background. She's clear eyed with meeting the community with where they are. "I know some metro stations say that $5 a month isn't worth it," she says when comparing what larger stations think about fundraising. "For us though, it's all $5 and $10. It's just because I think when somebody's making $12 an hour, asking them for that is significant every month."
Even with these considerations for their development team, it always comes back to the actual community and who listens to the station for Burnett. "There are a lot of counties in our coverage area that are high poverty counties. And I've just always thought that it's great to have a free public resource that's there for them."
Rural stations have the difficult balancing act of wide swaths of broadcast area and many types of people spread far and wide. Being there when they need it can be a challenge, especially for a small news team and station staff. Annual grants received by qualified stations from the Corporation for Public Broadcasting (CPB) help small, rural stations weather these challenges. Nearly 70 percent of the appropriation to CPB is distributed directly to public radio and television stations. Additionally, the Next Generation Warning System grants program through the Federal Emergency Management Agency (FEMA) helps rural stations replace essential broadcast infrastructure, necessary for maintaining and expanding their reliable, resilient emergency alerting capability. Continued federal funding for public media through these programs is essential for helping rural stations maintain their lifeline to communities in local news, emergency alerting, and other programming.
Burnett knows that WKMS is up for the challenge though. "It's all about bringing people together. So we just wanna be here to do that however we can." Whether it's responding to a region-defining disaster or making someone's day with an insightful local news story or playlist, that's always going to be WKMS's mission.
---