Passion and Partnership Keep The Dakota Datebook Going For Prairie Public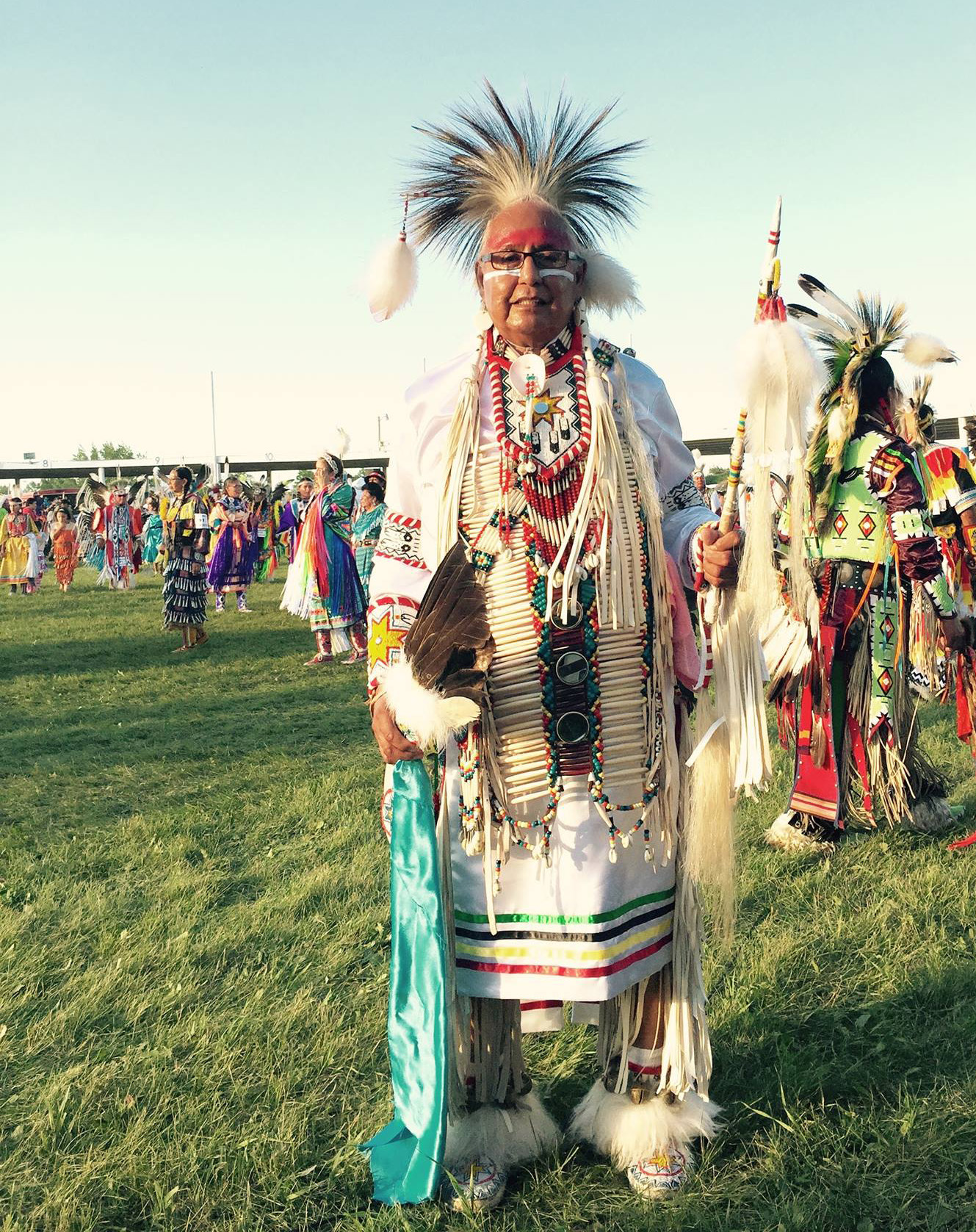 Oliver Gourd, Dakotah Language Teacher at Tate Topa Tribal School.
Photo by State Historical Society of North Dakota.
For over 20 years, the North Dakota broadcasting group remains dedicated to telling Native American stories from prairie country
For many stations, the lockdown and complications during the pandemic meant a narrowing of scope for their projects and broadcasting ambitions. That was not the case for Bill Thomas and Marie Offutt, director of radio and communications director at North Dakota's Prairie Public. The statewide media organization took on a major endeavor: the listening tour.
With a mandate to broadcast across the mostly rural state, Prairie Public focused on areas outside of major city centers, and staked out spots they wanted to cover. "We contacted people by quadrants of the state, we put ads in the weekly newspapers to solicit people, and we contacted people that we knew in different parts of the state." Thomas recalls. "We did Zoom meetings that were very open-ended about what issues are important to you, what's important to your community."
The listening tour was a critical effort to do the kind of dedicated, concerted listening that noncommercial radio does so well. More than 40 public radio stations who responded to the Rural Public Media Survey said they report on news specifically affecting or related to tribal communities. CPB identified 36 stations affiliated with tribes across Alaska, Arizona, California, Colorado, Idaho, Minnesota, Montana, New Mexico, North Dakota, Oregon, South Dakota, and Wisconsin. Like many rural stations, this was an initiative for Prairie Public to balance the needs of a scattered population. It's a consideration that's also built into their board of directors and advisory boards. "We made a very conscientious effort to have people on our boards that represent diverse areas of the state. That's very important to us." Offutt adds.
"We do spend a lot of time on things that […] generally cover the whole state," Thomas says, emphasizing how they pride themselves on their coverage of state politics in the capital. No matter what they do, staying truly grounded in the people they cover and who listens is important. "We try to get out there and talk to people in different communities and go around and do stories from different parts of the state," Thomas remarks about reporting on such an expansive state, an approach that eventually grew into something like the listening tour.
Some things, though, are integral to the station, ideas and projects that remain grounded in the community by their very nature. One of those is the Dakota Datebook, which began over 20 years ago. The series covers all kinds of Indigenous stories and topics from the state, appearing every weekday with a three-to-five minute segment. "Some of them are very serious, some of them are about politics," Offutt explains. "Some of them are about characters […] and they're really lighthearted. Some are very tragic. There are war ones. There are a lot of animal ones. There's just such a wide range of topics."
The Dakota Datebook was a project that began with what Thomas and Offatt, who started at the station together 22 years ago, thought might have been a shorter run. "Very early on we got some positive reactions to it and I thought maybe we would do it for a couple years and run out of material." Thomas says. Considering the series hasn't stopped, and stories now printed across the state with the North Dakota Newspaper Association, multiple books published, and popular podcasts, it's safe to say that the Dakota Datebook has made a longstanding impact on its audience and the state.
Originally, the program was conceived to include a community bulletin board and history, an objective that would allow the program to amplify voices not typically heard in the media yet voices that deserved a louder megaphone, particularly the five recognized tribes and one community in North Dakota: the Mandan, Hidatsa, and Arikara Nation (Three Affiliated Tribes), the Spirit Lake Nation, the Standing Rock Sioux Tribe, the Turtle Mountain Band of Chippewa Indians, the Sisseton-Wahpeton Oyate Nation, and the Trenton Indian Service Area. Indigenous and tribal stories are both foundational and clearly underrepresented, in North Dakota and otherwise.
Part of that reason is that the lasting records can be hard to find, especially further back and beyond in the major historic events of the state's wider history. "The archives are very rich in newspapers that chronicled the towns with the Scandinavian immigrants and the German immigrants and the Ukrainian immigrants." Thomas explains. "The Tribal communities didn't have that kind of archive."
What those communities do have is well-tested and meaningful oral traditions, especially through the elders. This became the basis for their newest series, "Teachings of Our Elders." Like many rural stations, their work also came together through a kind of ingenuity and collaboration with the resources they had built through their statewide network and with connections to local government. The basis for "Teachings of Our Elders" actually began back in 2015 when new legislation passed in the capital. "It was a law saying that the Department of Public Instruction needed to come up with a curriculum that supported and taught Native American culture for the public schools in the state," Thomas speaks of the origins of this series. "I thought this is an opportunity we can piggyback on the work that they're doing for this curriculum and take it out to a wider audience so that it's not just being conveyed to school kids, but it's being conveyed to an [adult] audience across the state."
Letting the tribes and elders speak for themselves not only carries their voices to the community, but fosters pride from Indigenous people across the state. Offett says of recent episodes where specific sayings and phrases from the Three Affiliated Tribes were discussed, "Maybe we got a reaction from someone in them saying 'I was so glad to hear that because I am one and I felt so included.' And so that made me feel more like we really gotta get more done."
Prairie Public has a rich schedule of decidedly North Dakota shows, ranging from pieces with Sue Balcom, a local gardener and cook to philosophical debates around the deepest questions there are to a beat reporter dedicated to energy due to a partnership with the Inside Energy Project. The Dakota Datebook, though, represents one of the core, original ideas that came together when Prairie Public decided to report across the state–the notion that all voices in these rural communities need to be heard and allowed to speak for themselves.
---